This article has taken quite a lot of work so far and it is still a work in progress as you will see as you read on.
You may (you really should) be aware of my article series; "Series: A Nigerian diet perspective of various fad diets" in which I reviewed the Cambridge diet in part 2
My work on the Cambridge diet stimulated a lot of discussion and hundreds of questions from blog subscribers asking for recommendations for a good meal replacement or weight-loss shake, I had questions about using shakes for weight-loss and for improving results when exercising.  Even questions about whether shakes were OK for pregnant women.
This subscriber interest led me to carry out a wide investigation of supplement and meal replacement shakes.  I will admit straight up that I wasn't expecting to like what I found and as such, I wasn't particularly surprised.
By and large, meal replacement shakes tend to be full of what Professor Michael Pollan calls "food-like substances" instead of real nutrition.
Here are some examples of what goes into popular meal replacement shakes:
Forza  Shake it Slim, strawberry flavour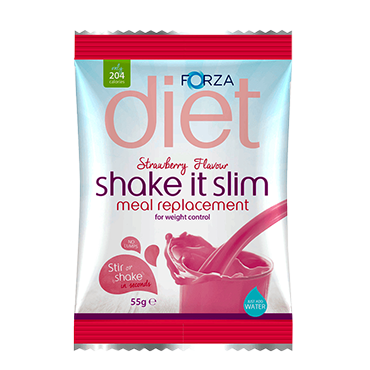 Skimmed Milk Powder, Dextrose, Whey Protein Concentrate (Milk, Soya), Soya Protein Isolate, Fat Concentrate Powder (Soya, Milk), Minerals (Tri-Potassium Citrate Monohydrate, Tri-Sodium Citrate Dihydrate, Calcium Hydrogen Phosphate Anhydrous, Magnesium Oxide, Ferric Pyrophosphate, Zinc Sulphate Monohydrate, Copper Gluconate, Sodium Selenite, Potassium Iodide, Manganese Sulphate Monohydrate), Strawberry Flavouring, Emulsifier (Soya Lecithin), Thickener (Carboxymethyl Cellulose), Vitamins (Ascorbic Acid, Vitamin E, Nicotinamide, Vitamin A, Calcium D-Pantothenate, Vitamin D3, Folic Acid, Pyridoxine Hydrochloride, Riboflavin, D-Biotin, Vitamin B12, Thiamine Mononitrate), Colouring (Betanin), Sweetener (Sucralose)
Cambridge Weight Plan  Ready to drink, Chocolate Velvet shake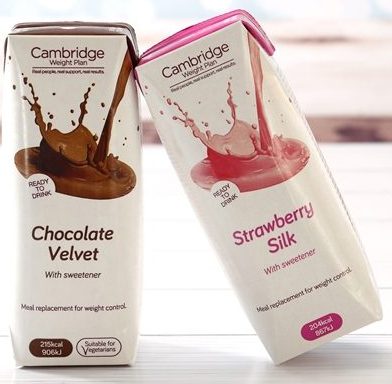 Skimmed milk (86%), Skimmed Milk Powder, Lactose (milk), milk protein, Reduced fat cocoa powder, Soya oil, Microcrystalline cellulose, Flavouring, Magnesium carbonate, Potassium chloride, Stabiliser: carrageenan, Compound vitamin and mineral mixture (maltodextrin, ascorbic acid, Vitamin E acetate, calcium D-pantothenate, manganese sulphate, pyridoxine hydrochloride, thiamine mononitrate, vitamin D3, riboflavin, sodium molybdate, folic acid, D-biotin, sodium selenite, chromic chloride, Vitamin K, potassium iodide, vitamin B12) Soya lecithin, Sweetener: acesulfame K, Partially hydrolysed maize starch, Salt.
Exante meal replacement strawberry shake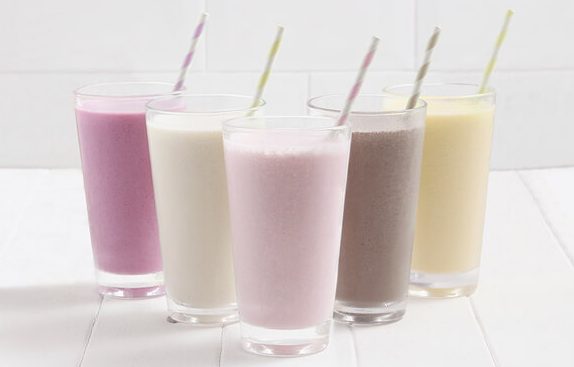 Skimmed Milk Powder (42%), Vegetable Fat Concentrate (Refined Soybean Oil, Maltodextrin, Milk Proteins, Emulsifier (Soy Lecithins), Antioxidant (Fatty Acid Esters of Ascorbic Acid, Alpha-Tocopherol)), Whey Protein Concentrate (Milk), Soy Protein, Vegetable Creamer Concentrate (Refined Coconut Oil, Whey Powder (Milk), Milk Protein, Stabilizer (Triphosphates Acetylated Oxidised Starch), Free Flowing Agent (Tricalcium Phosphate)), Maltodextrin, Inulin, Potassium Citrate, Natural Flavouring, Emulsifiers (Xanthan Gum, Guar Gum), Colour (Beetroot), DI-Potassium Phosphate, Salt, Calcium Chloride, Magnesium Oxide, Vitamin Premix (Biotin, Chromium, Copper, Fluoride, Folic Acid, Iodine, Iron, Manganese, Molybdenum, Niacin, Pantothenic Acid, Selenium, Vitamin A, Vitamin B1, Vitamin B12, Vitamin B2, Vitamin B6, Vitamin C, Vitamin D, Vitamin E, Vitamin K1 And Zinc), Sweetener (Sucralose).
These examples are pretty typical,  I found many more that are pretty much the same; Milk, Soya protein, vitamins, chemicals, artificial flavours and sweeteners.  All the things I tell my clients to avoid on health grounds.
Having said that, it's easy to see why a person would lose weight if they replaced a meal with something like this, I also believe that long term use could lead to health implications; the anti-nutrient  properties of soya (except when fermented) and the often-debated health risks of chemical sweeteners are enough to make meal replacement shakes something I could never recommend.
Or so I thought. . .
I was invited to attend a Team Beachbody pre-launch event on the 10th of September, I jumped at the opportunity because during my research on shakes, I had heard about Beachbody's Shakeology line but as it was not available in the UK, I hadn't managed to review it.  I thought it would be nice to analyse a product line from a company with a fitness focus rather than a weight-loss one.  I was curious but still expected to see the normal mix of milk, soya and chemicals.  I was quite surprised at the ingredients list: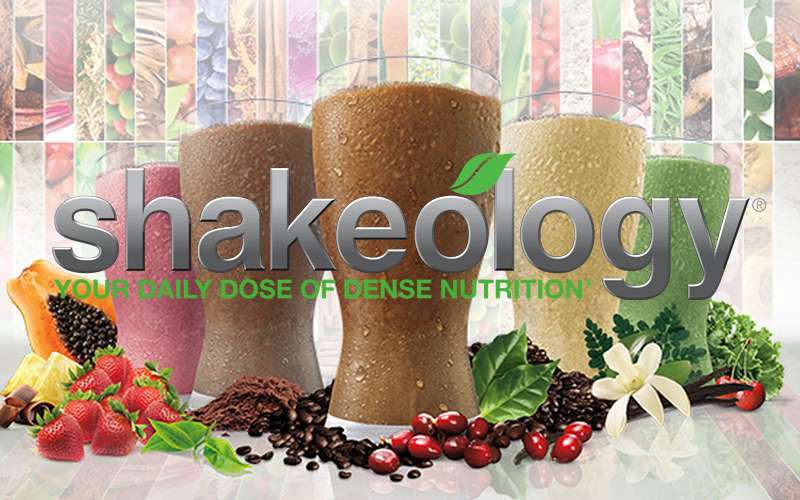 Shakeology Café Latte flavor
Super-protein blend, Whey, Sacha Inchi, Chia, Flax, Quinoa, Amaranth, Brown Rice, and Pea. Pre- and Pro-biotic and digestive enzyme blend, Yacon Root, Lactobacillus Sporogenes, Amylase, Cellulase, Lactase, Lipase, Protease, Papain, Bromelain. Superfruit/antioxidant blend, Camu-Camu, Acai, Acerola Cherry, Bilberry, Goji Berry, Grape Seed, Green Tea, Luo Han Guo, Pomegranate, Rose Hips. Super-green/phytonutrient blend, including Moringa, Chlorella, Spirulina, Spinach, Barley Grass, Kamut Grass, Wheat Grass, Oat Grass. Adaptogen blend, including Ashwagandha, Astragalus, Cordyceps, Ginkgo, Maca, Maitake, Reishi, Schisandra, Tulsi (Holy Basil)  Organic cane sugar, coffee, xanthan gum, Himalayan pink salt, Stevia leaf extract.
Actual foods, not chemicals, not even Soya!! I'm not a fan of sweeteners but the naturally occurring Stevia doesn't really have any black marks against it and the huge array of micronutrition being served up in one hit from this gallery of superfoods makes it necessary to sweeten slightly and well worth doing.
This is a great supplement shake and one that I will be adding to my arsenal as I help people lose weight and improve their health.
I'm beginning to sound like I've been paid for this rave review.  I haven't,  but who knows, maybe one day. . .  I intend to start drinking Shakeology myself. In fact, I'm so impressed that I'm going to join Team Beachbody's coach network and see what other gems I can find to help people live healthier lives. Watch this space, I may be widening my scope to add a fitness aspect to the nutrition and lifestyle coaching I already do. . .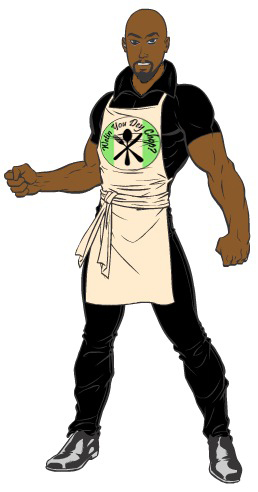 Major Abs' Takeaway
If you want to try a supplement drink or shake either to maximise results when exercising or as a meal replacement to lose weight,  there's another reason to try Shakeology. Beachbody are so confident of their product that they offer a 30 day no quibble returns policy.
I intend to try it myself.  It becomes available in the UK later this month. (October 2017) I will post a report after a 30 day trial.
**Update**
I did try it for 30 days and then again for another 30 days and another. . .
It's been 200 days since I started Shakeology and to be frank, it's hard to say categorically what the effect has been.  On the one hand, despite being in good shape to start with,  my weight has dropped by 5kg (11lb), I have gained some lean muscle, lost a couple of inches around my waist, achieved major improvements in my sport of rock climbing and I feel great in every physical sense.  The problem I have with assessing the Shakeology effect is that, as I mentioned back when I wrote this article, I joined Team Beachbody's coaching network and being a Beachbody coach means I have added regular workouts, not just Shakeology to my life. It's easy to say that there has been a profound effect but somewhat harder to attribute it solely to the Shakeology.  From the point of view of science, I really should have kept all other aspects of my lifestyle constant and made just the one change at a time. From the point of view of life, no regrets. . .
In conclusion, I can categorically  state that 30 minutes of exercise + Shakeology  every day will make you lose weight and gain fitness.  I can only surmise that doing either one or the other will also yield results, but probably not as profound.