Any change that sees you paying attention to what you eat after a period (or a lifetime) of eating 'anyhowly' will probably yield results. Any regulation is better than none.  I've seen people adopt a terrible eating fad and lose weight, not because what they're doing is great, but because what they were doing previously was terrible. In this series, I am writing about the popular dieting fads with a very specific Nigerian focus.
Part 2: Cambridge Diet. (Cambridge Weight Plan)
The Cambridge Diet, so named because it was originally developed at Cambridge University by a Dr. Alan Howard, is a very low calorie diet. (VLCD)
The essential principle of the Cambridge diet is starving the body of calories while trying to maintain healthy levels of all other nutrients. The diet restricts intake to about 600 calories/day in the initial (sole-source) stage.This forces the body into a mild state of ketosis in which it burns body-fat to make up the energy shortfall. With the feeding spread out across the day, making it impossible for the body to create fat stores to combat the starvation, it makes sense that it will result in weight-loss.
The Cambridge Weight Plan offers a series of low-calorie meal replacements to achieve weight loss and maintain healthy levels of essential nutrients.  Unlike the Paleo diet that I reviewed in Part 1 of the series, this plan is a full-on commercial system with a supply of meal replacements and one-on-one advice from consultants tied to the system.
From a Nigerian point of view, there are a number of difficulties with this particular fad.  Firstly, accessibility; this is not something you can do on your own, you need their products to make it work.   Secondly, they do not currently offer any Nigerian meal-replacements, there's no Cambridge Weight Plan okro soup.
Ignoring  the Nigerian factor and looking at it from a purely nutritional/health perspective.
Like my intro says, any regulation of an unregulated diet will yield results.  If you are eating 'anyhowly' and you go from that to the Cambridge Weight Plan, you can expect instant results. In fact, any adult who eats 600 calories/day should lose weight rapidly.  If I did it, I would actually lose lean muscle-mass which would not be a good thing.
In my opinion, there are a number of issues with this diet from a long-term point of view.  Cambridge Weight Plan themselves do not advise using it as a long-term diet. .  The meal replacements have vitamin and mineral supplements which is a good thing, but vitamins A,D,E, and K are fat soluble and because fats are very high in calories, this diet is low enough in all food groups including fats for there to be a risk of poor absorption of these vitamins.  The supplied products also rely heavily on soya protein which is known to severely inhibit our absorption of calcium, magnesium, copper, iron, and (seriously) zinc.
Having said that, the current version of the diet recommends a 12-week period and if one were to stick to the full-on (sole source) stage diet for just 12 weeks and transition into a more normal healthy lifestyle and diet, the issues I mention here should not be a big deal for an overweight but otherwise healthy adult.
Please remember, this is an analysis; not a recommendation to either adopt or reject a Cambridge diet.
Wetin you dey chop?
 Pictures and their captions in this article are the intellectual property of Cambridge Weight Plan.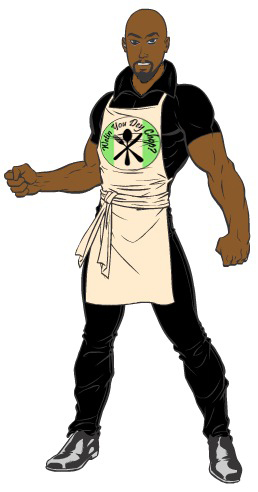 Major Abs' Takeaway
If you are severely overweight, have the discipline to stick to a difficult regime, have access and are considering the Cambridge Weight Plan, I recommend the following.
Have a medical check-up and discuss the plan with your doctor.
Drink plenty of water when on the plan
Prepare for the healthy lifestyle and diet you intend to adopt at the end of the plan